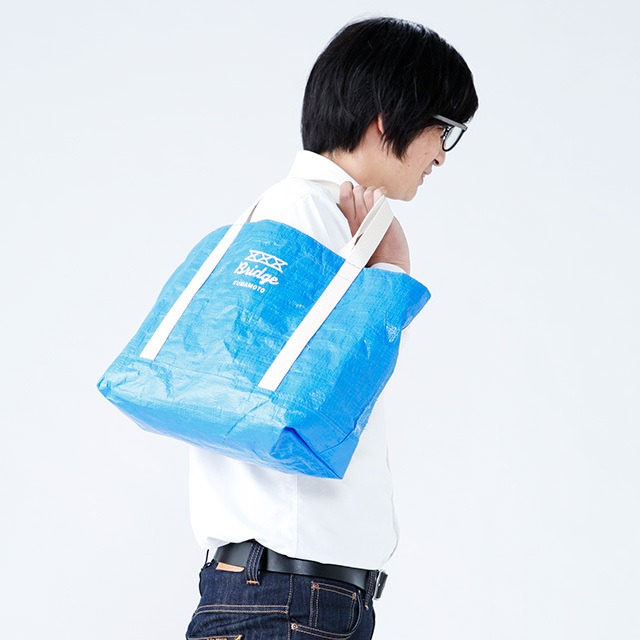 ブルーシードバッグ
サイズ:高さ約30cm 幅約33cm 奥行き約15cm
素材(表):被災地域などで使われた廃棄予定のブルーシート
素材(裏地・持ち手):綿
Add to Like via app
「ブルーシートを、ブルーシード(復興のたね)に。」
被災地域などで使用された廃棄予定のブルーシートを回収・洗浄・縫製して、トートバッグにリメイクしました。熊本地震で被災した大分県竹田市にある工場で縫製を行なっています。

「ブルーシードバッグ」は、ひとつひとつ同じものがありません。被災地で強い日差しを浴び、ほつれていたり、穴が空いていたり、ペンキがついていたり、サビがついていたり。
耐久性もまちまちなので、新品同様のものをお求めのお客様には、オススメしておりません。

売上のうち、生産コストは約50%。私たちが継続して活動を続けていくために必要な活動費として30%。そして残りの20%は被災地域で活動を続ける団体に寄付しています。
つまり、売上のほとんどが熊本・大分に落ちる仕組みになっています。

災害を象徴し、ネガティブなイメージを持たれていたブルーシートが<復興の種>となり、人々にとって明るく前向きなイメージになればと考えています。
寄付について
売上の一部を社会活動団体に寄付させていただきます。
寄付の状況は、Facebookにも情報記載しますので、ぜひご覧ください。
●BRIDGE KUMAMOTO 公式フェイスブックページ
https://m.facebook.com/bridgekumamoto/
寄付先一覧(2020年4月2日現在)
2021年7月1日 ランドアースさんへ10万円をご寄付
2017年9月12日 オレンジパフェさんへ10万円をご寄付
取り扱い店舗について
以下の店舗にてブルーシードバッグを取り扱っていただいています。
お近くの方は、お好みのダメージ状況や色合いのバッグを選びながらお買い求めいただけますので、
ぜひ足をお運びください。

なお、各店舗の在庫状況や、営業時間などは分かりかねるため、直接ご確認いただくようお願いいたします。

1)  「dot button company株式会社」さま
◯場所:〒154-0001 東京都世田谷区池尻2丁目4−5 IID202
「世田谷ものづくり学校」内(最寄駅:池尻大橋駅)
◯電話番号:03-6804-0682
◯メール:info@dotbuttoncompany.com

2)「Blue Bird apartment.」さま
◯場所:〒963-8005 福島県郡山市清水台1丁目8−15
◯電話番号:024-954-8744
回収したブルーシートは一つ一つ洗浄しています
たくさんの方がブルーシードバッグに関わってくださっています
縫製は大分県竹田市内の縫製工場で行っています
About blue tarps bag
Due to the spread of COVID-19, we are unable to hold a fabric washing event for the blue tarps, so we will only be selling a limited number. Production and sales are yet to be determined in the future, so please take this opportunity to purchase if you are interested.

Size: approx. 30 cm (height), 33 cm (width), 15 cm (depth)
Blue tarps that had used in the disaster areas and have been discarded were collected, cleaned, sewn, and remade into tote bags. The bags are sewn at a factory in Taketa City, Oita Prefecture, which was hit by the Kumamoto Earthquake.

No two "Blue Tarps Bags" are alike. The bags have been exposed to strong sunlight in the disaster area and may be frayed, have holes, paint, or rust on them.
We do not recommend our products to customers who want them to be as good as new, as they have varying durability.
Production costs account for about 50% of our sales. Of the sales, about 50% goes to the production cost, 30% goes to the cost of activities that we need to continue our activities. And the remaining 20% is donated to organizations that continue their activities in the affected areas.
In other words, most of our sales go to Kumamoto and Oita.

We hope that the blue tarps, which symbolize disaster and have a negative image, will become a "seed of reconstruction" and create a brighter and more positive image for people.
Reviews

(37)

Shipping method / fee

Payment method